For children and adults coping with serious health and physical conditions, Portrait of Hope projects serve as creative therapy. Portraits of Hope has provided children and adults facing cancer, burn trauma, spinal injuries, HIV/AIDS, head and brain injuries, and other serious medical issues with innovative, fun, and therapeutic activities that let them enjoy and take pride in themselves during the course of their medical care and/or rehabilitative treatments.
During hospital sessions, children and adults receiving care have the opportunity to share in Portraits of Hope project activities – including creating individual, small-scale, project-themed artworks – with family members, visitors, medical staff, and hospital and project volunteers. Portraits of Hope also involves all in the larger public art collaboration.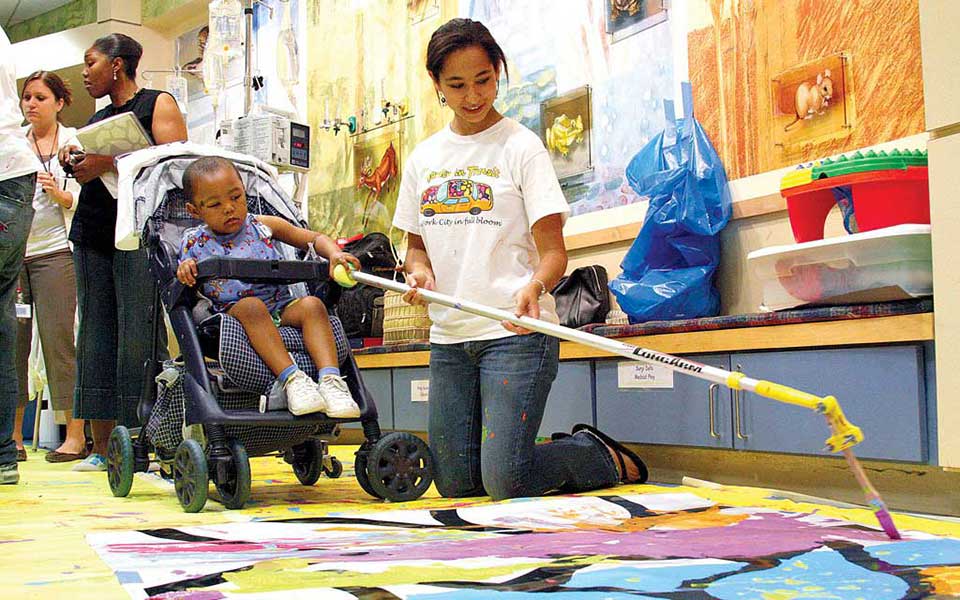 Creative Therapy in Action
In order to facilitate the diverse needs of children and adults with disabilities, Portraits of Hope has developed and incorporated specialized brushes and painting methods in the program including telescope paint brushes for children and adults in wheelchairs or attached to IVs, shoe brushes (U.S. Patent) for children and adults with injured upper limbs or who cannot manipulate a brush with their hands, and flavored mouth brushes for those with limited or no movement in their arms and legs.
At hospitals, bedside visits are made to make sure that anyone who may wish to participate is able to do so.
Portraits of Hope takes great pride in that every major Portraits of Hope project has served and involved children in hospitals and rehabilitative facilities.